To create a Book, from the admin menu, select Content - Add content. Then click on Book page.
Title
Enter the Title for the Book page.

Body
The Body field is where you will enter all of the content for your new book page - text, links, images, etc. (see Editor Options).

Menu Settings
Only the top-tier page of a book should be given a menu item. If this if the first page in your book, check the Provide a menu link box and enter the name if the menu item in the Menu link title field.
Under the Parent Item drop-down, select where you want your new page's menu button to display.
Select Main menu to have it appear on the main navigation.
Book Outline
Click on the Book outline tab.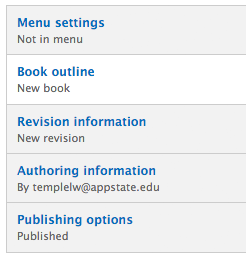 Book
In the Book menu, select <create a new book> to create a new book and make this Book page the top-level page in the new book.

Weight
The Weight drop down is used to set the order of Book pages, however using the Books section is a much easier way to sort book pages on the website. To change the order of your Book pages, see the section on Managing the Book Outline.

Other Settings
For information on Revision information, Authoring information, and Publishing options, see their respective instruction pages on this website.
Save
Click the Save button when you have completed entering the Book page content.