Insert/Edit Table

Allows you to insert a table on the page.
Inserting a Table
Position your cursor where the table should be placed on the page.
Click the Insert/Edit Table icon on the toolbar.

Enter the Columns and Rows for your table.
Cell Padding, Cell Spacing, Alignment, Border, Width and Height are all formatted by the theme styles, so these fields can be left as their defaults.
Click Insert to create a blank table on the page.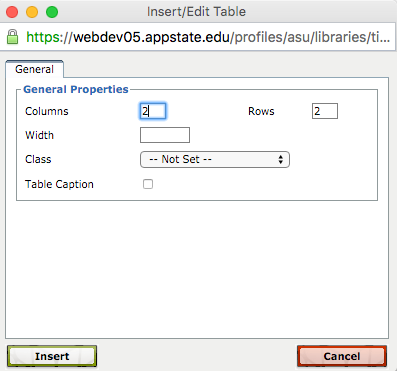 An empty table will be inserted into the body field.

Adding Content to a Table
Position your cursor in each cell to enter content into each table cell. Cursor keys can be used to move between cells within a table.
Formatting Cell Headers
To create column or row headers for the table, enter the text into these cells and select the cells with the cursor.

Click the Table Row Properties icon in the toolbar. (You may also perform this action using the Table Cell Properties icon.)

Select Header from the Row Type (or Cell Type) drop-down and click Update.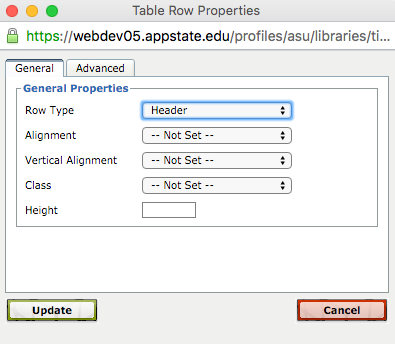 Table Properties
You also have additional Table Properties options. Select the cells you want to modify in your table and use the additional table formatting icons in the toolbar as desired.

Format Table Row Properties

Format Table Cell Properties

Insert Row Before

Insert Row After

Delete Row

Insert Column Before

Insert Column After

Delete Column

Split Merged Table Cells

Merge Table Cells